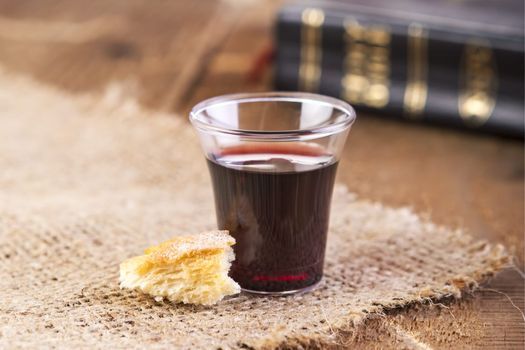 In the middle of this years Methodist Conference there was a report presented which I suspect most people missed, given the interest in the vote on same sex marriage which made the national news!
The report I refer to is 'Holy Communion and Online Worship' (Report 39). During this period of lockdown we have been effectively deprived of Holy Communion as the present standing orders of the church prevented people joining in a service of Holy Communion at home over the internet. (The get out clause was to call it a Love Feast). Given this deprivation the Faith and Order Committee have begun a period of discernment as to the experience of online communion.
The Conference adopts a period of discernment from 1 September 2021 until 31 August 2024, in which presbyters and other persons authorised to preside at the sacrament of the Lord's Supper be permitted to lead celebrations of Holy Communion in which some or all of the worshippers gather together through electronic means, and directs all who preside at such celebrationsto consider prayerfully the guidance in this report in their preparation and conduct of them and to observe the parameters set out in paragraph 7.4
At the same time this was happening unnoticed in Methodism, Bishops in the Roman Catholic Church were arguing as to whether President Joe Biden (a life long Catholic) should be prevented from receiving the Mass because of his stance on abortion. That did make the national news.
The Methodist understanding of Holy Communion reflects a broad spectrum of opinion so what I share with you are my own personal beliefs about Communion. I know there will be those who disagree with me but I am OK with that.
As a Methodist I believe Communion is God's gift, not the church's gift. Methodists should never debate, as the Catholic church currently is, whether some individuals should be permitted access to the Table. Deciding who deserves to receive communion is beyond the job description of the church. The origins of Communion begin with God's gracious character revealed in Christ. It does not begin or end with the church. This means the church does not get to refuse anyone the privilege of participating in God's gift. We did not create communion. We, therefore, do not get to limit Communion. We do not even "take" Communion. We receive Communion. And our job is to help others also receive it. The church is a recipient of grace. We do not own grace. We do not restrict grace.
As a Methodist I believe that in Communion God folds the past and future into the present. This belief begins not with the nature of time, but in the nature of God. The past, present, and future all collapse in on each other because we worship a God who transcends time and makes one community out of all of us. God's presence has been given to the people of God in all times and places. The past, present, and future are God's eternal now. As God was present in the Exodus, so God is present now. As Jesus is present in the future new creation, so Jesus is present now. This presence, in fact, is not a symbolic presence. It's a real presence. The God of all time has folded all moments into this moment and given us not symbolic presence but God's active, passionate, attentive presence. So that also means we all participate in the Exodus story, the liberation of God's people from the bondage of Egypt, sin, and death. That past event is brought into the present. We participate in the future resurrection and redemption of all things. That is, Communion brings God's future restoration and new creation into the present. This also means that Communion makes us present to other believers who are also presently alive and receiving Communion. We are participating in divine grace as a Communion with believers in China, Russia, Fiji , Zimbabwe, and Palestine.
As a Methodist I believe the table is open to everyone. Our language is that we have "an Open Table." No one is restricted from the Table. No one is too unworthy because no one was worthy to begin with. Will unworthy people receive Communion if we leave it open to everyone? Well, yes. But unworthy people receive Communion even when the Table is "closed" because no one is worthy to receive Communion. I remember early in my ministry being criticised for giving communion to children as 'they don't understand what they are doing'. I asked the critic to explain to me what was happening when they received communion. I received no further complaints! Jesus celebrated the Passover meal with Judas, who was soon to betray him. Jesus washed Judas's feet that same night. Jesus knew beforehand that Judas would betray him, yet he was not kept from divine grace. If Jesus can wash Judas's feet and receive him at the Table, who are we to restrict anyone from the Table?
As a Methodist I believe Communion is a work of grace into the lives of non-Christians. Even non-Christians can participate in the Communion moment. They may not become Christians that exact moment, but they do, nevertheless, participate in grace. And that grace can lead them to conversion. When we say our Table is "open," we mean that no one — not a Buddhist, not a Muslim, not an Atheist, no one! — is kept from the Table. Communion is the moment when all of us, undeserving as we may be, find God's grace given to us in tangible ways. The church doesn't own Communion, so we don't even get to restrict it to those inside the church. The God of all creation has gifted it, through Jesus, to all of creation.
God bless, Alan.